Hello and Happy Holidays!
If you're new to The Striped House, welcome!  I'll be showing off my how I decorated my home for Christmas this week.  Today, I'll be giving you all a sneak peek at my tree, it's my favorite part!   Stephanie from Casa Watkins Living is hosting a week chock-full of Christmas Tree inspiration.  Some of you might be coming here from Postcards from the Ridge, so I'm especially happy to have you 🙂  Be sure to scroll to the bottom to see the full list of bloggers who are participating.
The evolution of my Christmas tree…  When I started purchasing ornaments off the clearance rack at Hobby Lobby years ago, I had the hardest time picking out what colors I wanted my tree to be.  You see, my mom had always decorated really beautiful trees, and she would switch up the colors every couple years.  So I knew the possibilities were endless.  I was so completely overwhelmed.  What do I do when I'm overwhelmed by color choices?  I go to my classic black and white.  I love color, but I can't commit to it.  I knew I wouldn't have the money to change out my colors and style every year, so I had to go the "safe route".  For a couple years, I included bright chartreuse green, but that gradually phased it's way out.
Fast forward a couple years, and my holiday decor had gotten a little too sparkly.  It didn't feel very Christmas-y.  I wanted to bring back a classic Christmas feeling…  I like red, it blends in well with my black and white.  Years ago, I was lucky enough to spend a day in Malmo, Sweden – and it got me interested in my Swedish roots.  Little by little, you'll see more Scandinavian influence sneak into my not only my Christmas decor, but daily interiors.  I'm tellin' ya, those Swedes can decorate.  And I don't mean IKEA, haha!
The three words I would use to describe my Christmas style is modern-traditional (I'll count that as two), and Scandinavian.
Affiliate links are shared for your convenience.  You are welcome to read my full disclosure policy here.
FAVORITE ELEMENTS
The black and white, and the stripe patterns (red and white striped pillow) are traditional.  The red, faux sheepskin rugs, and the winter feel of the tree are Scandi.   There are some ornaments, including the glass bead garland that are modern.  Some are pretty sparkly still, but it gives the tree some interest.  I have four large pieces of garland that look like bare branches that are covered in clear crystals.  They are going horizontal on the tree at an angle.  They are one of my favorite Christmas purchases.  I bought them on clearance after Christmas one year at Hobby Lobby.
Be sure to check out the other blogger's trees throughout the week.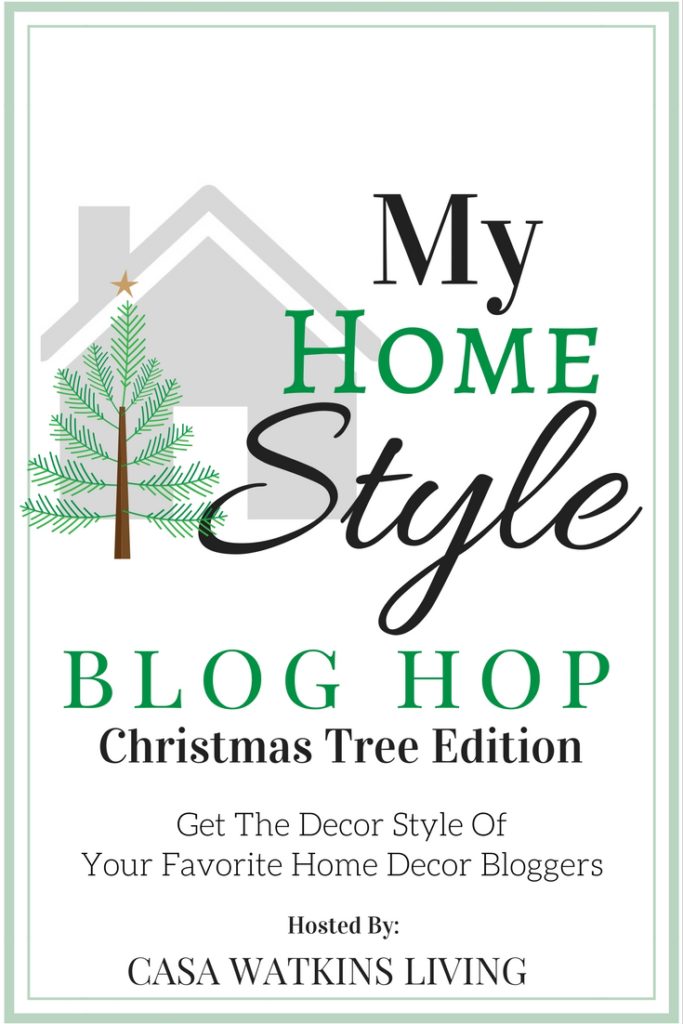 *Please note, the links will not go live until the day of the tour*
Monday
Tuesday
The Striped House (you are here!)
Wednesday
Thursday
Friday
 Thank you so much for stopping by.  I'll be sharing my full Christmas home tour tomorrow.  See you then!